Get perfect business credit, separate from your personal with the LARGEST Corporate Credit Building Program ANYWHERE!

Learn how to establish business credit, why it is so important, and how we can help you.

Learn the best business structures to use when you apply for credit.

If your business offers products and services to other companies and you want FREE advertising click here.

Log-in to CCN Credit! The definitive resource center and corporate credit building program

Mystery of Business Credit


If you don't know the answer to any of the questions below, you are among thousands of business owners who are lost in the maze of how to build business credit. We can provide you the answers to the mystery.

Who are the two largest business credit bureaus? What rights does a business owner have for incorrect information on a credit report? What are the business credit scores? What do business lenders look at? Where do you find companies that grant credit? How do you get a company to grant credit? Which companies report to the business credit bureaus? What credit card companies do not require personal guarantees?

Advantages of Having A Business Credit Profile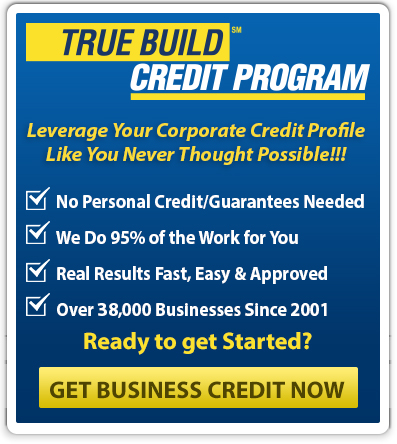 Just by building a business credit profile you will be able to limit the use of your personal guarantee and build business credit regardless of your personal credit history.

You will have more cash for the business. Convenience in purchasing. Protection of your personal assets from that of the business. Limit your personal liability from the business. No need for personal credit checks. Purchase vehicles with no personal guarantees. Purchase equipment, computers and more with your business credit. Preparing your business for future lending needs
Separating You From Your Business

You can separate your personal liability and protect your personal assets from that of the business just by incorporating. It is possible to build a business credit profile for a sole proprietorship or partnership however you are still responsible for all the debts of the company. We recommend building your business credit as a corporation or limited liability company. Other advantages of a corporation are:
Separates you from your business. Limited liability of the owners and officers. Lower tax liability. 100% tax deductible insurance. Reimburse 100% of medical expenses. Corporate image. Raise capital and build credit faster. Lower your audit risk as a small corporation. Stock ownership - easier to transfer assets. Protect Your Personal Assets
Biggest Advantage of Having Business Credit

The biggest advantage of having a good business credit profile is saving money. By obtaining a more favorable credit score you will lower the interest you pay on loans and leases. For example:
| | | |
| --- | --- | --- |
| | Average or No Credit Score | Good Credit Score |
| Loan Amount | $50,000 | $50,000 |
| Length of Loan | 10 years | 10 years |
| Interest Rate | 11% | 8% |
| Payment | $689.34 | $606.64 |
| Total Paid | $82,720.80 | $72,796.80 |
Total Savings For Having Good Credit $9,924.00

Business Credit Agencies

There are two main business credit reporting agencies in the United States that lenders and financial institutions rely on for information to grant credit. The two credit agencies are D&B®* and Experian Business.

D&B®*

| | |
| --- | --- |
| | Over 150 million businesses are registered with D&B®* |
| | The credit profile created by D&B®* uses information provided by the business owners and vendors of the business |
| | Grants a PAYDEX® score to businesses based on payment experiences of the business |
| | Issues a D-U-N-S® Rating based on the financial statements of the business |
| | Has a High Risk status for company's that will destroy a company's ability to obtain credit |
Experian Business
| | |
| --- | --- |
| | Over 14 million businesses are registered with Experian |
| | The credit profile created by Experian uses information provided by vendors only |
| | Grants an Intelliscore based on payment experiences |
| | Is one of the three largest personal credit bureaus |
Business Credit Scores

The business credit scores with D&B®* and Experian are what the lenders and financial institutions look for to determine credit.

PAYDEX® Score*
| | |
| --- | --- |
| | Score ranges from 0 to 100 |
| | A score of 75+ is good |
| | Based on payment experiences reported by vendors |
| | Need 5 trade references who report to D&B®* |
Intelliscore
| | |
| --- | --- |
| | Score ranges from 0 to 100 |
| | A score of 75+ is good |
| | Based on payment experiences reported by vendors |
| | Need 2 trade references who report to Experian |
D-U-N-S® Rating*
| | |
| --- | --- |
| | Various rating schedules |
| | Based on employee size and financial statements |
| | Also takes into account payment history |
CCN Credit...

Our service will prepare your business to obtain credit, loans or leases.

The Goal of the program:
| | |
| --- | --- |
| | All lenders and credit bureau requirements of a business will be reviewed and put in place |
| | Create a new credit profile without creating a new identity |
| | Save money by bettering your credit score and lowering interest rates |
| | Obtain a favorable Credit Score of 75+* based on your companies payment experiences |
| | Assistance in obtaining a Credit Rating |
| | Assist in developing a credit profile |
| | Provide a list of companies that will extend credit with no personal guarantee and previous credit history and will report all payment experiences to credit bureaus |
| | Provide The TrueBuildSM Resource Center, which includes, list of credit card companies, vendors, banks, lenders and more |
| | Apply for 3-5 business retail credit cards with no personal guarantees |
| | Provide resources for vehicle leases, equipment financing or loans under the corporation's name |
| | To keep your business out of the No Credit, High Risk status |
The TrueBuildSM Corporate Credit Program

The steps your business will go through with the service is:
| | |
| --- | --- |
| | Investigate the business to determine if any "High Risk" areas need to be looked at |
| | Apply for and obtain a credit profile |
| | Correctly navigate the 5 exact steps to building your credit profile properly |
| | Make sure that you avoid all the common mistakes that get companies "red-flagged" |
| | Provide vendors and get them to report to the credit bureaus |
| | Provide list of companies that offer products and services on credit without the need for a personal guarantee or any previous credit history, and also report payment experiences to build the profile. |
| | Assist clients in developing Credit Scores of 75* or better based on payment history with trade references |
| | Apply for 3-5 new retail business credit cards that do not require a personal guarantee |
| | Work our way through to Step 5 and advanced No PG Approvals |
| | Give you the latest banking resources for both good personal credit and no PG situations |
| | The countries most aggressive real-world recession lenders |
| | Second level lenders and line of credit grantors |
| | Every known non personally guaranteed business credit card in existence in the USA |
| | Assist with establishing a Credit rating based on company financials |
| | Assist in finding financing and additional credit required by your business |
| | Process takes only 90 - 120 days to complete |
| | CCN works with you and your company throughout the Credit Building process |
| | Weekly Status Updates from your Business Credit Technician |
| | Access to a wealth of knowledge and your technician at anytime during business hours |
| | Personal Access to our Founder once your credit file is strong enough to be approved for Today's no PG solutions (Toyota, Rolls, Bentley, Equipment, Property?) |
| | Email Newsletter bi-monthly |
| | Process reports bi-monthly mailer |
---
Ready to get Started?
$45K LOC, $22K Credit Line, Staples $3K, Office Depot $5k, Sears Commercial $7K, Amazon $3k, Target $5k, Comp. Lease $20k, Home Depot $3k, Dell $4k, Dell $7k, Arco $1K, MC $4k, Visa Business $12k, Sunoco $3k, Sam's Club $3k, Wal-Mart $3K, Business MC $10k, Lowe's $10k, Union 76 $3k, Biz MC $4k, Biz MC $10k, Biz MC $6k, $12K LOC, NO PG Business Auto Leases.. (13) Ford Vans, BMW 5-series, Cargo Van, (3) Ford Pickups, $10.7k micro loan, $21k Biz Loan, Paul M. $85k 23 trades, Mike B. $64K 34 trades, Hundreds More Weekly !!